Join 20k+ of conquered users !
By putting the guests at the heart of the event, Bunch'm guarantees that each guest will find his or her place.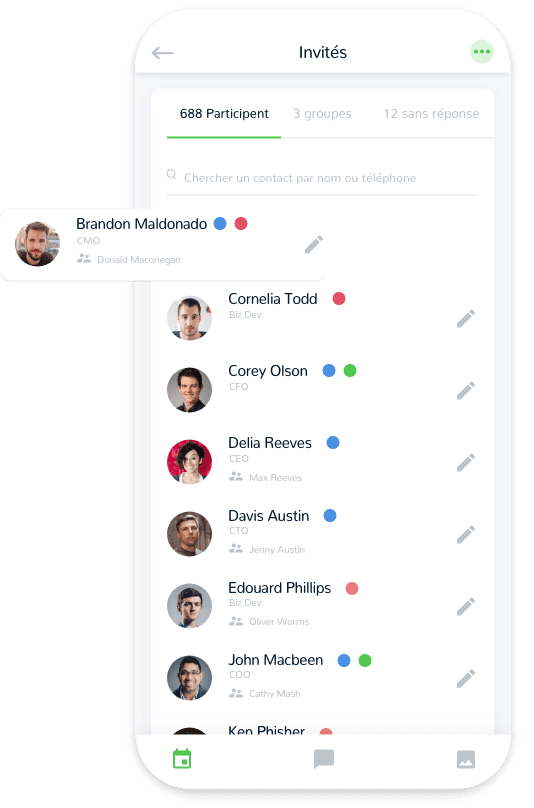 Companions
Allow the presence of accompanying adults and/or children.
Photos
Share all your photos without any loss of quality.
Messaging
Chat with your guests, take surveys and share attachments.
Reminders
Easily redirect your guests directly from your phone.
Premium offer
/ event
49,99 €
Unlimited co-organizers
Co-organize your event with no limit of co-organizers.
Questionnaires
Ask any questions you want.
Who's coming when? Allergies…
Emergency Messages
Send up to 3 urgent messages to all participants by email or sms instantly.
Activity planning
Create a custom schedule and more.
Group
Designate what your guests will be able to participate in.
Guest profile
Ask your guests to create a profile to differentiate themselves.
Pr0 offer (Excluding VAT) / event
299,99 €
Dashboard
Enjoy all the features of Bunch'm in desktop version.
Activity planning
Add more speakers and don't have to re-task them.
Activity planning
Automate the creation of activities by creating recurring activities.
Activity planning
Set a limit on the number of guests that can participate in each activity.

"This app is amazing! The announcement, it was before!"

"That's damn good! I signed up and used it twice as a free version for a birthday and a we."

"Thank you very much, looking forward to working with you again. Your app is saving my clients a lot of time."